Equipements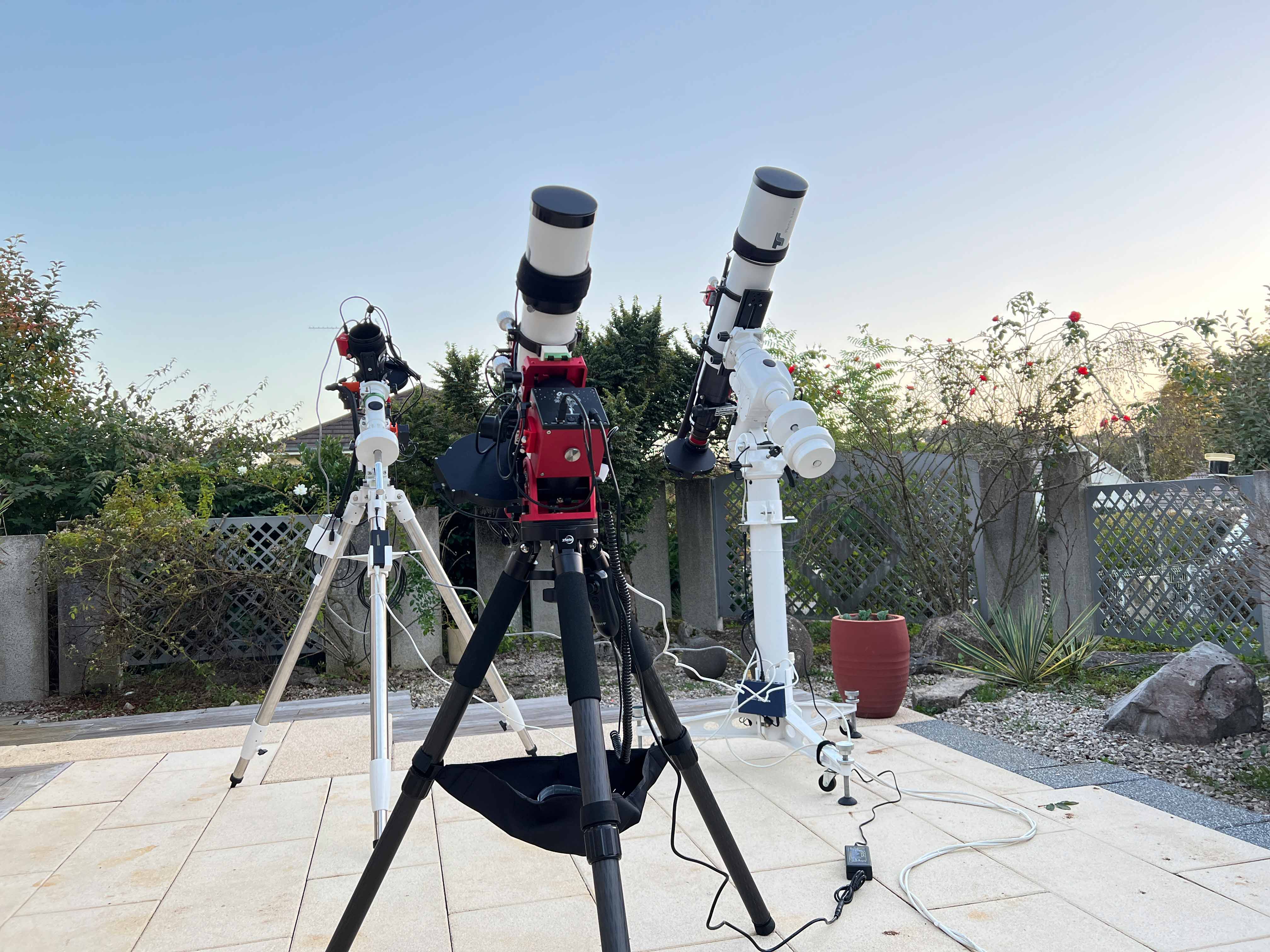 Mes 3 lunettes en action!
Au premier plan ma 80 ED sur ZWO AM5 et au second plan à  droite ma 130ED sur Eq6r Pro. A gauche mon objectif Samyang 125mm sur Eqm35 Pro.
les 3 instruments sont équipés chacun d'une roue à filtre (EFW) 2'' 7position, d'un focuseur électronique (EAF) et d'un diviseur optique 2'' (OAG).
Le pilotage par une tablette est assuré en Wifi par 3 ASIAR (1xplus et 2xPro).
Description de ma lunette 130ED/ My refractor 130ED characteristics 
Étant donné que je ne fait pas de prise de vue en nomade avec cette lunette, une fois assemblés et mis au point, je considère ce télescope comme "finalisé " et je ne le démonte plus sauf en cas de modification comme le remplacement d'une caméra ou une roue à filtre … etc ce qui arrive rarement. 
Un soin particulier a été apporté au câblage afin de supprimer les risques d'accrochage des câbles dans les phases de retournement de méridien par exemple.
Tous les câbles ont été coupés à la mesure (12v et USB2) à l'exception du câble USB3 de la camera imageuse (il ne faut pas bricoler les câbles USB3 sous peine de perdre en débit!).
Je peux donc vous présenter ma lunette 130ED :
Since I don't shoot on the go with this telescope, once assembled and developed, I consider this telescope to be "finalized" and I no longer disassemble it except in the event of modification such as the replacement of a camera or a filter wheel … etc which rarely happens.
Particular care has been taken with the cabling in order to eliminate the risk of the cables snagging in the meridian reversal phases, for example.
All the cables have been cut to measure (12v and USB2) except for the USB3 cable of the imaging camera (do not tinker with the USB3 cables, otherwise the data rate will be reduced!).
I can therefore present my 130ED refractor to you: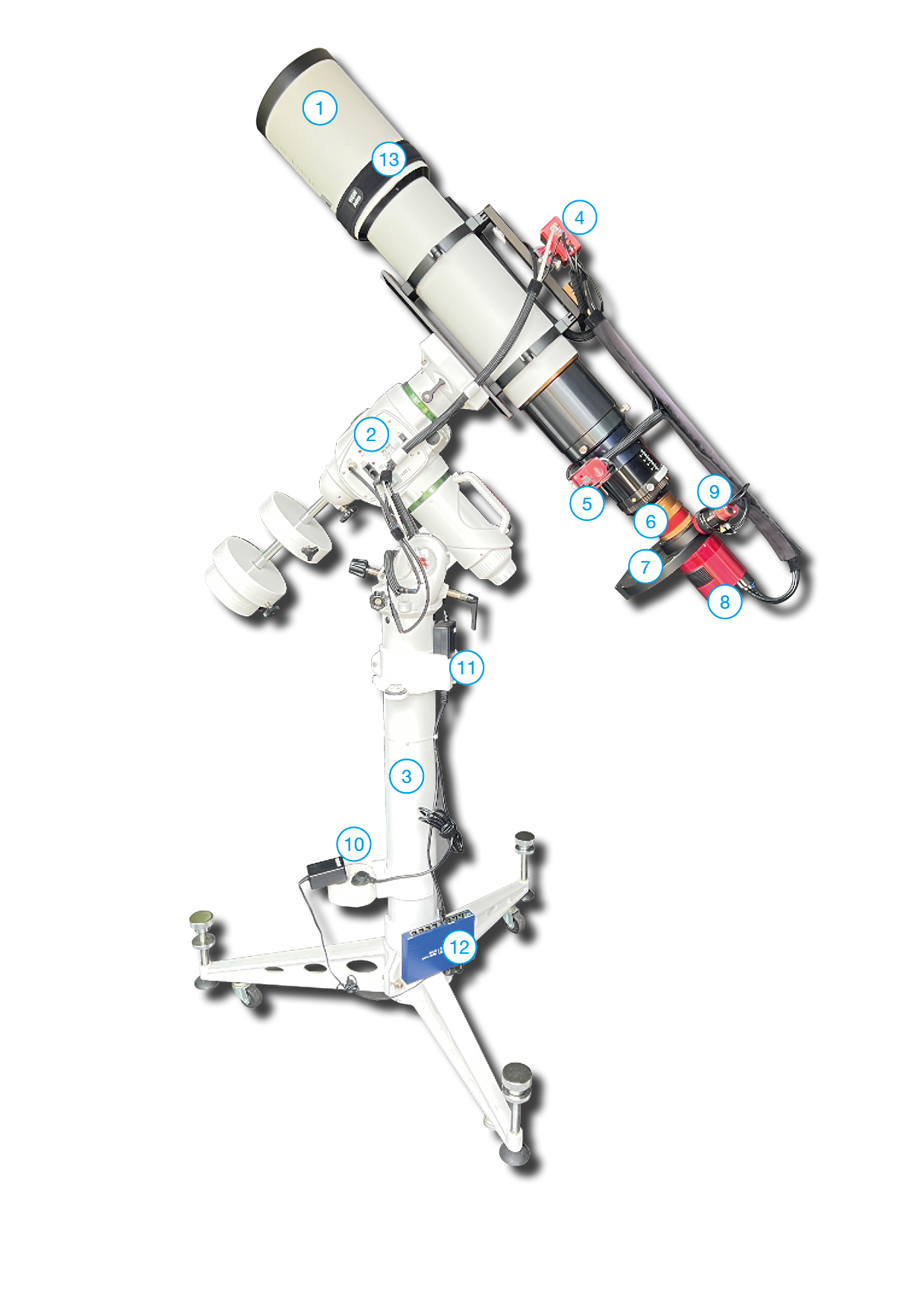 1

Lunette 130 ED focale 910mm /
Refractor 130ED 130mm focal length

 8

 Caméra ASI2600 MM réfroidie /
ASI2600MM Pro cooled camera

2
Monture EQ6R-Pro / EQ6R-Pro mount
9 
 Diviseur optique avec camera ASI120MM-S/
Off axis guider with ASI120MM-S camera
3
Pied colonne Sky-Watcher  pour EQ6-R / Tripod SW
10 
 Triprise permetant une alimentation de l'ensemble avec une seule prise./Multi-socket allowing a power supply of the whole with a single socket.
4
Contrôleur ASIAR Pro / ASIAR PRO computer
 11
 Bloc secteur 12V 5A attaché au pied de la monture/
Power supply 12V 5Amps
5
Focuseur électronique / Electronic focuser
12 

 Switch ethernet Gigabit  8 port pour connecter les autres télescopes/
Ethernet switch 8 port Gbit

6
 Correcteur réducteur / Image field flattener
13 
Ruban chauffant 12V anti-condensation / Anti dew heater 12V
7
Roue à 7 filtres Ø 2"/ Electronic filtre wheel x7 Ø2"